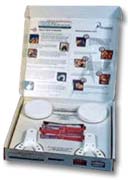 3 Steps to White Teeth
Professional Teeth Whitening sells the identical teeth whitening and teeth whitener dentists sell but for 1/3 the cost.

Your goal of white teeth is accomplished in 3 easy steps.

Impressions A teeth whitening kit is mailed to you, complete with everything needed. You take an impression of your own teeth using the materials provided, then mail those impressions to our lab (postage is pre-paid).


Custom Mouthpieces From the impression our dental labs create a model of your teeth and use this model to fabricate a custom mouthpiece that is snug and that fits the countours of your teeth. Our dental labs then mail you the custom mouthpieces.


Professional Whitener Once you recieve your custom mouthpieces, simply apply the professional teeth whitener and place them in your mouth. You will begin to see positive, professional results after your first application.

In 3 easy steps you will have white teeth by a process that is SAFEER, QUICKER, WHITER and CHEAPER by using the identical professional mouthpieces and teeth whitener dentists use but for 1/3 the cost.

You make an impression of your teeth using the material provided in the kit.
The lab creates a model of your teeth.
Once you recieve your trays, apply the gel evenly to your mouthpiece.
Mail your impressions (postage free) to our lab for fast processing.
With your model the lab makes your custom fitted trays and mails them back to you the same day.
Press your trays firmly in place and wait 2 hours. Repeat every night until your teeth are the color you desire.
Everything to whiten your teeth.
Professional Teeth Whitening provides everything to whiten your teeth with the identical procedure and product your dentist uses. The following items are included in your professional teeth whitening kit:
Professional Strength Whitener(Opalescecnes, Nite White, Day White, Nupro Gold or Achromasia)
Impression Kit
Lab Work
Custom mouthpieces
Carrying case
Shade chart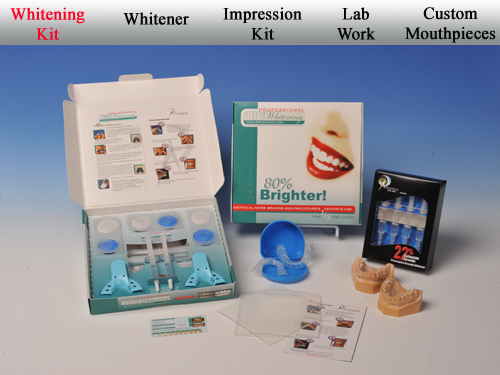 Professional Teeth Whitening is so confident that you will be happy with our products that we guarantee (100% money back guarantee):
Your teeth will whiten up to 8 shades or whiter.
We sell/sold identical teeth whitener (Opalescence, Nupro Gold, Nite White, Day White, Perfecta and Acrhomasia.), strengths (15% Carbamide Peroxide) and tooth whitening dentist sell
Our teeth whitening is 1/3 the cost of dentist.

Copyright 2003 Professional Teeth Whitening, All rights reserved